12 Jan 2021 More vaccination sites for Bucks
More COVID-19 vaccination centres are coming to Buckinghamshire this week, with GP-led sites opening in High Wycombe Town Centre and Aylesbury this week, in addition to the 5 sites which are already up and running to deliver vaccines to patients aged 80 and over.
Another GP-led site will follow soon in Buckingham, and a further site is being planned for the south of the county, as the vaccination programme continues to gather pace across Buckinghamshire.
We expect that by the end of this month all patients over the age of 80 should receive an invitation for a vaccination appointment.
A number of pharmacy vaccination sites will also be launched in Buckinghamshire; sites in Marlow and Wycombe are due to open and start vaccinating people during next week. Additional sites in other areas of the county are due to open very soon too. 
And two more mass vaccination centres are also in the process of being set up – more details will follow on these in due course.
So far more than 12,000 vaccinations have been given to patients across Buckinghamshire, including nearly 2,000 delivered to health and social care staff at a 'Hospital Hub' managed by Buckinghamshire Healthcare NHS Trust.
GP-led vaccination sites for patients are already up and running in:
Chalfont St Peter
Winslow
Princes Risborough
Chesham
High Wycombe
Several national mass vaccination sites are also being set up by the NHS which are outside of the county. Some Buckinghamshire residents aged 80 and over, who live 30-45 minutes from the nearest of these sites, may have received a letter on these from the NHS in recent days. This letter explains how they can book a slot through the national system if they do not wish to use the local system (the GP-led sites described above).
Currently, the mass vaccination sites closest to Buckinghamshire are:
Epsom racecourse in Surrey (South East)
Excel Centre in London (London)
Robertson House in Stevenage (East of England)
If residents have received a letter but do not want to attend one of these Mass Vaccination sites, it will not affect their ability to get an appointment at a local site through your GP.
As well as people aged 80 and over, care home residents and staff, along with health and social care workers are being prioritised in this first phase of the national vaccination rollout. This is in line with the national Joint Committee of Vaccination and Immunisation (JCVI) prioritisation programme.
The Government has announced that the top four priority groups in the JCVI list will be completed by mid-February.  
Residents are being asked to please not contact their GP surgery to arrange an appointment. The NHS will contact patients when the time is right for their vaccination appointment to be arranged.
Martin Tett, Leader of Buckinghamshire Council, said: "These are extremely difficult times for all of us, but it is important to remember that the pace of the vaccination programme is increasing in Buckinghamshire and we are pushing hard to make sure things move faster going forward. We hope that residents can be reassured that there is a way out of this pandemic, and that their area will soon be covered by a vaccination centre if it is not already. More age groups and vulnerable patients will be offered the vaccination over the coming weeks and months, in line with the national priorities of the phased rollout.
"We would ask that residents please be patient and not call their GP practice to arrange a vaccination appointment. The NHS will instead contact you when the time is right. I appreciate this has been a frustrating time and we are all eager to see those most in need get their vaccinations as soon as possible, but your patience and support is greatly appreciated.
"In the meantime, I would ask everyone to please continue to follow the 'Stay at Home' rules to the letter to help keep yourself and your loved ones safe, and to protect the NHS."
Details of the vaccination programme in Buckinghamshire can be found on the Council's website https://www.buckinghamshire.gov.uk/coronavirus/community-hub/covid-19-vaccination-programme/
The list of the JCVI's top four priority groups comprise around 120,000 people in Buckinghamshire.
Residents in a care home for older adults and their carers
All those 80 years of age and over and frontline health and social care workers
All those 75 years of age and over
All those 70 years of age and over and clinically extremely vulnerable individuals
 
Please see below for a full list of which GP practices are covered by GP led vaccination sites in Buckinghamshire. Please note, the site planned for Buckingham will cover patients from The Swan Practice. Details of the planned site for south of the county will follow soon.
Winslow Local Vaccination Site:
This site will administer the vaccine to patients eligible registered at:
Ashcroft Surgery
Waddesdon Surgery
3W Health
Your GP will either call you or send a letter inviting you to your appointment. Please do not call the GP or go to the vaccination site without an invitation
A further site going live on Friday 15 January:
Aylesbury Local Vaccination Site
This site will administer the vaccine to eligible patients registered at:
Berryfields Medical Centre
Edlesborough Surgery
Haddenham Medical Centre
Mandeville Surgery
Meadowcroft Surgery
Oakfield Surgery
Poplar Grove Practice
Westongrove PCN
Whitehill Surgery
5 Jan 2021 National Lockdown – Stay at Home
Full details of the latest guidance and rules can be found on the Government's Covid Lockdown advice page.  Further information will be made available once received.
5 Jan 2021 Bucks Unitary Press Release
During the Prime Minister's address to the nation on 4 January, he announced that people who are clinically extremely vulnerable will be asked to shield again.
What does this mean?
If you are clinically extremely vulnerable you will receive a letter from the government in the coming days outlining what precautions you should take. You should not leave the house to go to work, to the shops or the pharmacy. When you receive your letter you will need to register on – https://www.gov.uk/coronavirus-shielding-support  – if you require support or wish to access a priority supermarket delivery slot.
If you would like to look at what local support is available to help you shield effectively, visit the Bucks Online Directory – https://directory.buckinghamshire.gov.uk/
If you need urgent help, fill in the contact us form on our website –
https://www.buckinghamshire.gov.uk/your-council/contact-us/
or call the council on 01296 395000.
For the latest shielding advice please visit –
https://www.gov.uk/government/publications/guidance-on-shielding-and-protecting-extremely-vulnerable-persons-from-covid-19/guidance-on-shielding-and-protecting-extremely-vulnerable-persons-from-covid-19
I am not clinically extremely vulnerable but need support during the lockdown
Residents of Buckinghamshire who are struggling during lockdown can get support from the Council and the local community in a number of ways:
Quote from Gareth Williams, Cabinet Member for Communities and Public Health said "As well as the support we have already put into place during the last nine months of the pandemic, we are again moving Council staff around so they can help support our most vulnerable residents during this lockdown. I'm really proud of how our staff and our communities continue to rise to the challenge."
30 Dec 2020 COVID-19: Buckinghamshire declares 'Major Incident' over virus cases
Dear Resident, 
Buckinghamshire Council, in consultation with NHS partners, has declared a 'Major Incident', amid fears the number of COVID-19 cases could overwhelm our local health and social care services. At this time of year we would usually expect some added pressure to hospitals, but cases of Covid-19 locally are now at 514 per 100,000 people, and expected to increase to closer to 800 per 100,000 by next week.  We need to act now to ensure our hospitals do not become overwhelmed in coming weeks.
What does this mean for Buckinghamshire?
The intention with declaring a Major Incident is to help protect our local healthcare services now, ensuring care is still available for those who need it most. This means;
Keeping our hospitals for those that need them most and are seriously ill.  NHS111 is available 24/7 for advice; they will make sure that anyone unwell or injured is seen by the right people, in the right place, as quickly as possible (whether it's a GP, the Urgent Treatment Centre, or A&E).

 

Protecting the most vulnerable to limit their risk of exposure to Covid-19, as well as other seasonal illnesses or injuries due to slips, trips and falls during this cold weather. Our Support Hub can help ensure the most vulnerable can get help with supplies like food or medication. Lots of other health and wellbeing information, including advice on self-care and looking after your mental health, is available via the Buckinghamshire Ready for Winter page.

 

Adhere closely to the latest Government Covid guidance; stay home where possible, avoid mixing with other households completely, and remember hands, face, space. This has possibly never been more important. Anyone with Covid-19 symptoms should book a test by phone or online, and not just turn up at hospital.

 
What we're doing to help strain on hospitals
Buckinghamshire Healthcare NHS Trust has put in some temporary changes to ensure safe and appropriate staffing levels at all times, and that there are enough beds to meet current and anticipated demand. The NHS is still here for those who need it. Anyone who is concerned about their health and doesn't know where to go must call 111. They will ensure the right path of treatment, including booking appointments.
"If you have a less urgent concern or a minor illness, health advice is available via the Ask NHS app, NHS 111 online and at your local pharmacy. By using these options for minor health concerns, you can help GP practices and hospitals ensure that we support patients with the most urgent needs more quickly."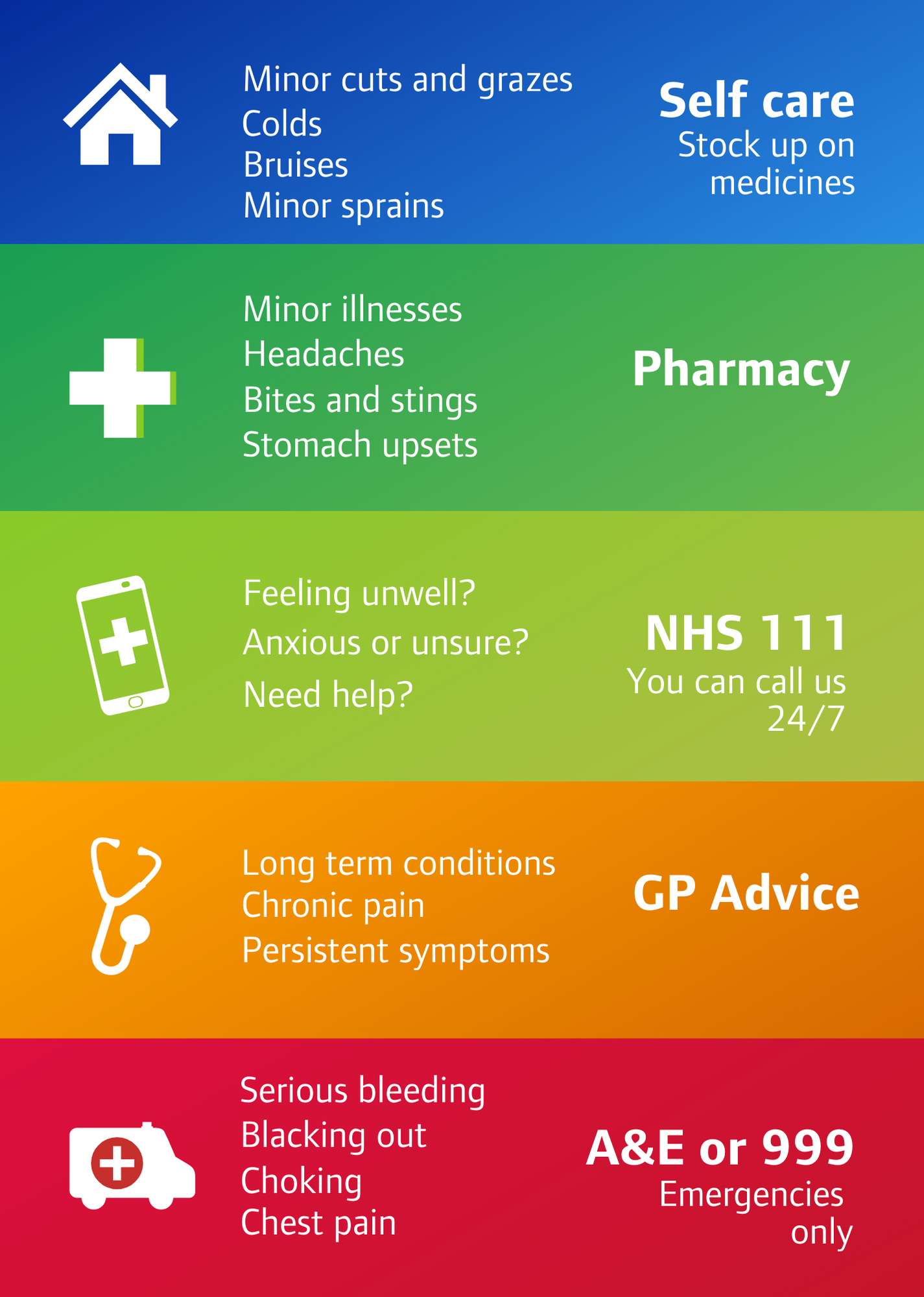 From Buckinghamshire Unitary Council:
The new NHS COVID-19 app is now live and is available for people in England and Wales to download and use on their smartphones. This is the 'official' NHS app to support the Test and Trace system. The app doesn't use personal data other than the first part of a user's postcode – it works anonymously via Bluetooth. Users download it voluntarily and we want to encourage people to do so, as the more people who use the app, the more effective it will be
How it works and what it does: The app will work on both Apple and Android devices. Some users may have to install the latest update. All users will have to have Bluetooth enabled on their phones. It only needs to run in low energy mode. If someone doesn't have a smartphone then they cannot use the app. The app is available in the following languages and it's hoped this list will be extended: English, Punjabi, Urdu, Gujarati, Bengali, Welsh. Users can use the app to:
i) Report symptoms ii) order a coronavirus test iii) check into venues like pubs, cafe and restaurants, churches, leisure centres and hairdressers using a QR code
Users will not give their personal data; the app will store info on what time the user enters and leaves a venue and it will use Bluetooth to see which other users have been at the same place at the same time. If another user who'd been in close contact then reported symptoms or a confirmed case, the user would be automatically sent an alert with further advice if necessary, such as whether they should isolate. This alert would not identify the person who had tested positive – it uses unique anonymous IDs embedded in the phone itself. The postcode information supplied by users allows the NHS to see which areas the virus is spreading in. It's just the first half of the postcode that users will put in eg HP19. If the app advises someone to isolate, it also provides a countdown timer so they can easily keep track of how long to stay isolated. The app will also let users check symptoms; it will give a list of symptoms and they can select which ones apply to them – it will then tell the user if the symptoms suggest they have coronavirus Venues: Certain venues are now required to display the posters with the 'check in' QR codes for app users to use. Most of these venues will need to display the QR codes by law – although this is not the case for all eg places of worship (unless they have a café or similar on site too). People who don't have the app will have to sign in directly with the venue, who are obliged by law to keep contact information on all visitors/customers on a 21 day rolling basis. This list of venues includes all local authority venues. This means all Buckinghamshire Council buildings are now required to display the NHS App QR code posters. All venues from the following sectors will also be required to display the NHS App QR code posters: hospitality, leisure and tourism, close contact services, libraries and places of worship Why it's so important: This technology will allow the NHS to find out much more quickly if the virus is spreading in a certain area. It will significantly reduce the amount of time it takes to alert people if they've been in contact with a case. The app helps trace other users who've spent time near each other, even if they don't know each other personally. Users will be able to check the app each day to see if their postcode area has become higher risk – meaning people can more easily make personal choices about their movements. If enough people use it, it will significantly help the NHS trace the spread of the virus, ultimately helping both the user and the wider population.
Privacy: The app does not store personal data, other than the first part of a user's postcode. If a user tests positive for coronavirus, they can choose whether to enter this information into the app – it isn't compulsory. The positive user's ID and privacy is protected at all times. The app cannot access any other data on the user's phone such as contacts or photos. The app cannot be used: to identify you; to track you; to check if you are self-isolating; by law enforcement. The app tracks the virus, not the user For detailed information about the new COVID-19 NHS App go to www.COVID-19.nhs.uk
Coronavirus advice and links to information:
https://www.gov.uk/coronavirus
https://www.nhs.uk/conditions/coronavirus-covid-19/
https://www.gov.uk/coronavirus-extremely-vulnerable
https://www.buckinghamshire.gov.uk/coronavirus/
https://www.buckinghamshire.gov.uk/coronavirus/service-changes/
https://www.buckinghamshire.gov.uk/coronavirus/video-updates/
https://www.buckinghamshire.gov.uk/coronavirus/community-hub/
Community Impact Bucks – Advice for groups
https://www.buckinghamshire.gov.uk/coronavirus/coronavirus-business-support-hub/local-support-businesses/
Local lifelines support work for residents at highest risk
Anyone concerned about a vulnerable person who may need support can contact Buckinghamshire Council by emailing communities@buckinghamshire.gov.uk or telephoning 01296 383204.